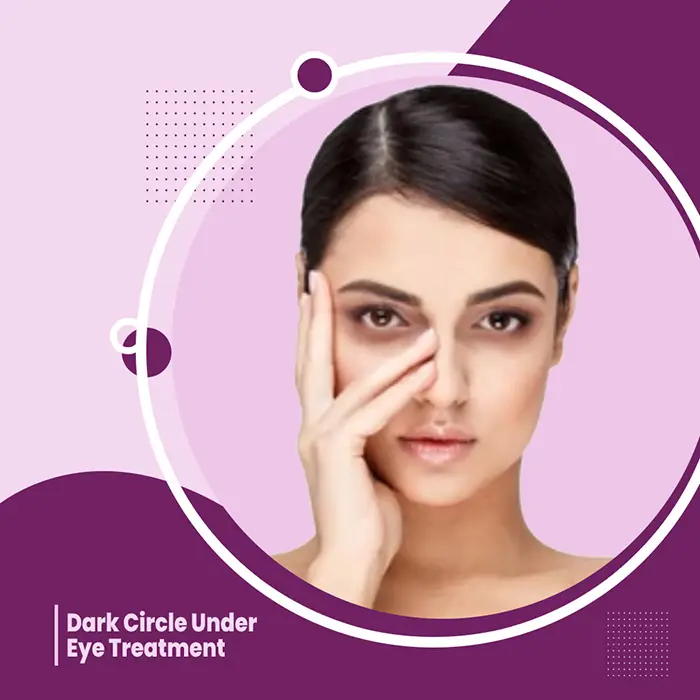 Say Goodbye to Dark Circles – Navadiya Skin Care Clinic offers you with best Dark Circle Treatment in Surat at best affordable fees. Many of them think that dark circles are due to fatigue and lack of sleep. Though this can be one cause, there are many other reasons for dark under eye circles, such as allergies or the natural aging process. Dark circles under the eyes may seem purple or blue with dark or black brown, depending on the color of the skin. These circles are rarely a cause for concern, but people may wish to reduce their appearance for cosmetic reasons. In some cases, dark circles under the eyes may indicate the need for lifestyle changes, such as improving sleep or eating habits.
The best method to remove dark circles are dermal fillers. In this method, the dermatologist uses gel-like substances to correct dark circles caused by loss of facial volume and volume under the eyes. Dark circles under the eyes Laser treatment is another treatment option for dark circles. These dark circles can be the result of extra melanin production and uneven pigment distribution. These dark circles are shadows that are caused by skin laxity, fat loss under the skin, and eye bags. There are several home remedies that help reduce the prevalence of dark circles. They may not be a permanent remedy but they do help reduce pigmentation without any side effects. These home remedies work for milder cases of dark circles where the problem is not persistent. It is always best to consult your doctor to determine the root cause of dark circles. There could be conditions like hypothyroidism, excessive dehydration, malnutrition, liver complications, etc. which show up as dark circles, which you may not be aware of.
Best Under Eye Dark Circles Treatment
Best Under Eye Dark Circles Treatment by Dr. Navadiya at best affordable price and 100% guaranteed result. Each and every one wants to look youthful and healthier as age progresses. But wrinkles, fine lines and bags under the eyes can affect your appearance. It is essential to preserve the under-eye skin hydrated and healthier by using good eye creams or gel. Fortunately, there are a lot of under-eye creams accessible in the market that carry good results by fighting off eye bags and dark circles. Most skin specialists recommend skin lightening creams as the first line of protection to indulgence under-eye hyperpigmentation. These creams comprehend azelaic acid, kojic acid, glycolic acid, or hydroquinone. It is also a real under eye treatment for wrinkles.